Madonna of the Trail Statues - Maryland
In the late 1920's, the National Society of the Daughters of the American Revolution (NSDAR) commissioned the design, casting and placement of twelve memorials commemorating the spirit of the woman pioneer. These memorials were placed along the route of the National Old Trails highway and extended from Washington, D.C. to Los Angeles, California.
The idea for the Madonna of the Trail Monuments began in 1909 when some Missouri women wanted to mark the Santa Fe Trail. Later, the National Society of the Daughters of the American Revolution (NSDAR) joined their effort. The groups began working side by side with the National Old Trails Road Association which was headed by then Judge Harry S Truman, of Independence, Missouri. That highway closely approximated the paths of Braddock's and Washington's Road, the National Road, Boone's Lick Road, the Santa Fe Trail, and the Old Trail. The road ran from Washington, D.C. to Los Angeles. When a plan to place 3,095 mile markers failed, the group elected to place monuments in each of the state through which the highway ran.
The monument itself was conceived by Arlene B. Nichols Moss, of St. Louis, Missouri. Moss was inspired by a statue of Sacajawea that stood in Portland, Oregon. On September 7, 1927, the group selected a statue of a pioneer woman clutching two small children and a rifle.
The statue was sculpted by August Leimbach and cast in an amalgam of crushed granite, stone, marble, cement and lead ore. The statue stands ten foot tall and weighs over five tons.
The statue sits on pedestal that measures five foot by five foot by six foot high and weighs twelve tons. On the pedestal are inscriptions dedicated to national and regional history. The front face of each pedestal reads:
N.S.D.A.R. MEMORIAL TO THE PIONEER MOTHERS OF THE COVERED WAGON DAYS.
The back face of each pedestal reads:
THE NATIONAL OLD TRAILS ROAD
The pedestal sits on a foundation that sits three feet underground and two feet above.
Five of these monuments are found along the shoulder of Route 40.
Here links to the Madonna of the Trail statues found along the National Old Trail Highway.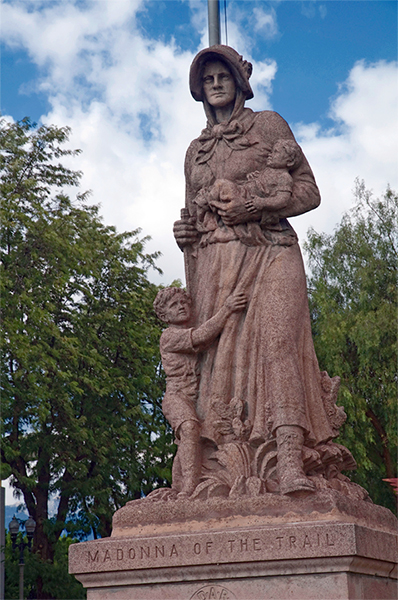 Madonna of the Trail - Maryland (Bethesda, MD)
"The monument is located on Rockville Pike (MD Route 355) in Bethesda, Maryland, just outside of Washington, D.C. This is one of the few monsuments fou......"
---
For more information:
---
---
Feedback: Do you have corrections or contributions for this page? Want to make a suggestion? Click here to send me an e-mail. I am espcially interested in memories, stories, postcards and photographs. Thanks!

Last updated: 2010-10-22 12:39:38