Roadside Attractions - Nevada
Here are links to some notable roadside attractions (past and present) found along Route 40.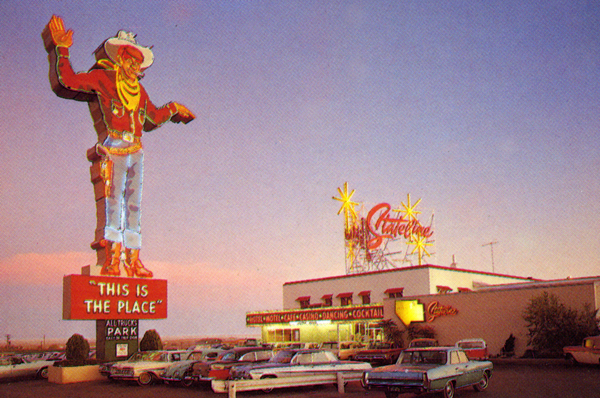 Wendover Will (West Wendover, NV)
"The Wendover Will sign was built in 1952 for the State Line Casino. The sign was named after the State Line's founder Bill Smith and was modeled afte......"

World's Largest Polar Bear (Elko, NV)
"White King, a 12-foot tall, 2,000 pound polar bear is stuffed and on display inside the Commercial. Larger than life (or death) statues of White King ......"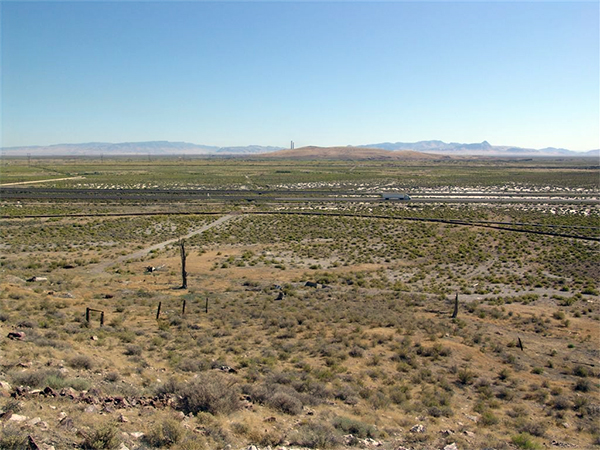 Lone Tree Mine (Valmy, NV)
"Up until 2006, the Lone Tree Mine is one of the largest gold mining operations in North America. The mine and its processing have since ceased operat......"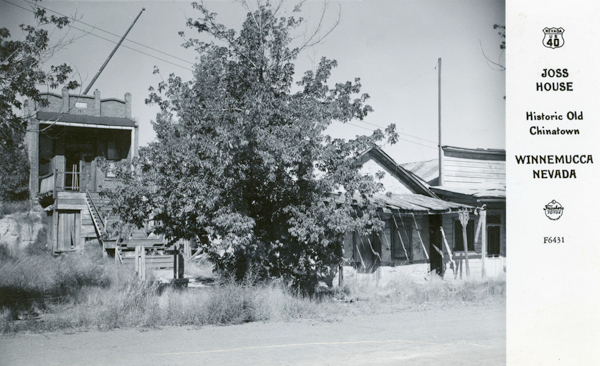 Joss House (site) (Winnemucca, NV)
"At one time the Chinese population of Winnemucca was considerable. By the late 1800s, many of the former Chinese laborers from the construction of th......"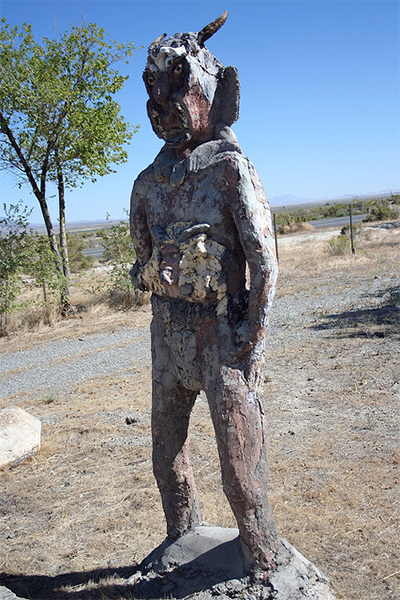 Naked Man Greets the Day (Imlay, NV)
"Standing by the side of I-80 (and old Route 40), this roadside sculpture was created by Chief Rolling Mountain Thunder......."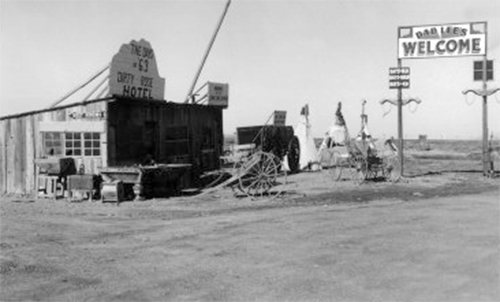 Dad Lee's (Oreana, NV)
"Desert rat 'Dad Lee' was as colorful a character as they ever got along old Route 40. In the 1920's and 1930's he ran this little roadside stand on th......"

40th Parallel (Lovelock, NV)
"Some people believe that U.S. Route 40 obtained its numerical designation because it approximated the 40th parallel lattitude line. This is incorrect......."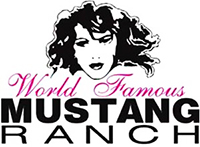 Mustang Ranch (site) (Sparks, NV)
"The Mustang Ranch began as a brothel consisting of four double-wide trailers. It was known as the Mustang Bridge Ranch and Valley of the Dolls. While ......"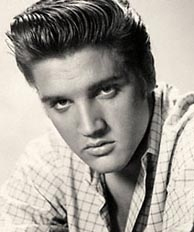 Elvis' Gun Collection (Sparks, NV)
"Come see three guns once owned by The King. Reportedly the gun Elvis used to shoot out his TV at the Las Vegas Hilton is in this collection......."

Last Chance Joe (Sparks, NV)
"Built in the 1950's, Joe is a 36 foot tall statue that greets visitors on the casino's Victorian Street entrance......."

Golden Rooster (Sparks, NV)
"While you're at the Nugget, be sure to visit the hotel lobby. There you will find the famous Golden Rooster on display. In 1958, casino owner Dick Gra......"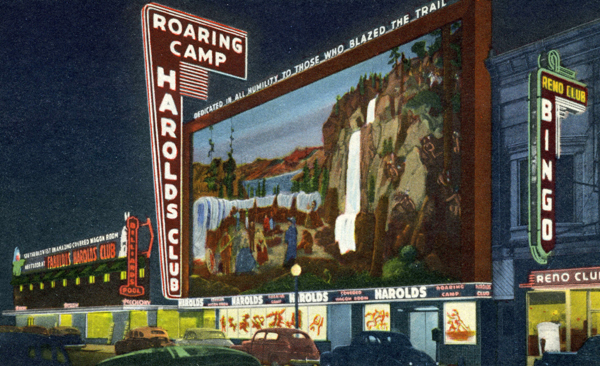 Harold's Club Mural (Reno, NV)
"In 1949, Harold Smith erected a massive 80 foot by 40 foot mural outside his North Virginia Street casino. It depicted pioneers crossing the plains a......"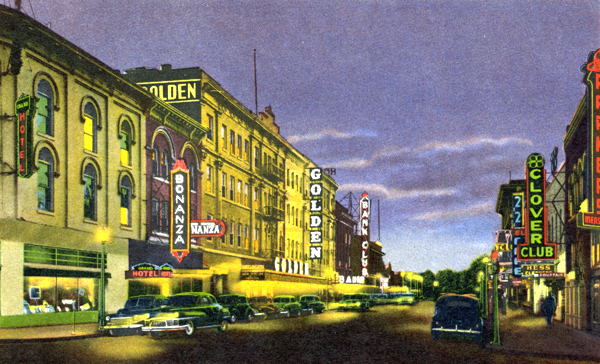 Golden Bank Casino (Reno, NV)
"Opened in 1907. Closed in 1966. The site is now a parking lot......."

Palace Club (site) (Reno, NV)
"Opened in 1888. Closed in 1979. The site is now a parking lot......."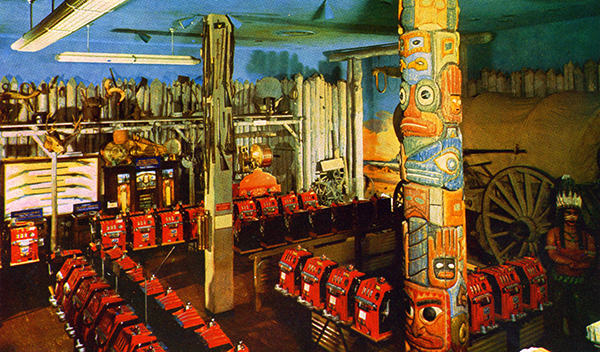 Harold's Gun Museum (Fort Smith) (Reno, NV)
"Harold's Casino and Hotel housed on of the largest private collections of firearms. There were, at one time, over 3,000 guns in the collection. When......"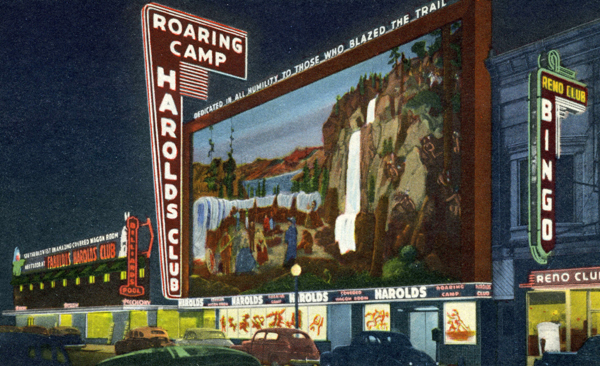 Harold's (closed) (Reno, NV)
"Opened in 1935. Closed in 1995. The site is now a plaza for Harrah's Hotel......."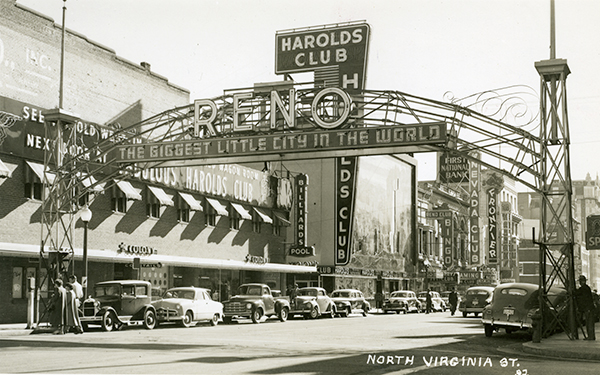 Reno Arch (Reno, NV)
"The first arch across Virginia Avenue was erected in 1926 as part of the Transcontinental Highways Exposition. City leaders asked for suggestions for......"
---
Feedback: Do you have corrections or contributions for this page? Want to make a suggestion? Click here to send me an e-mail. I am espcially interested in memories, stories, postcards and photographs. Thanks!

Last updated: 2009-09-08 04:28:09