Welcome!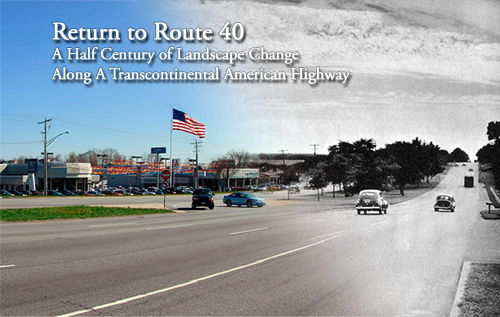 Click here to learn how you can be part of a new book about Route 40.
---
Route40.net is a collection of guides, maps, biographies, information, maps and even music about the highway U.S. Route 40.* Route 40 began in 1926 with the creation of the numbered federal highway system. As a 'decade' route, the number 40 was assigned to the route carrying transcontinental traffic at the nation's midsection (smaller decade routes were to the north and larger decade numbers were to the south).
The mid-1950's were a period described by many as the Golden Age of Automobiling. By that time, Route 40 served America well, carrying more automobile traffic than any other transcontinental highway. Back then, if you needed to go from coast to coast, there simply wasn't a better choice.
During its heyday, the highway ran 3,157 miles from Atlantic City to San Francisco, traversing the midsection of the United States. When the Interstate Highway system came along, many western sections of Route 40 were decommissioned. Today, Route 40's official western terminus is at Silver Creek Junction, Utah, about 50 miles east of Salt Lake City.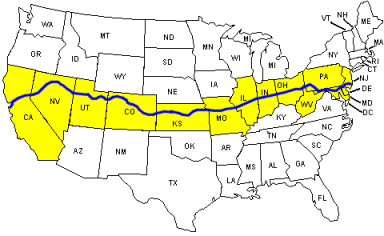 Even though about 800 miles of this once grand old highway no longer appear on today's roadmaps, its spirit lives on. People are joining together to recognize Route 40 and in many places, the highway has achieved historic status. Clubs of highway enthusiasts exist around the country. Many sections of the highway are nationally recognized scenic byways. In other places it is not uncommon to find the road designated at Historic Route 40.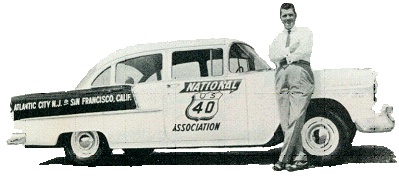 So, take a few minutes and explore America's greatest transcontinental highway. With over 10,100 pages of information (including over 4,000 pictures) you're bound to like what you find.
* Not to be confused with Interstate 40 which runs from Barstow, California, to Wilmington, North Carolina.
---
For more information:
---
---
Feedback: Do you have corrections or contributions for this page? Want to make a suggestion? Click here to send me an e-mail. I am espcially interested in memories, stories, postcards and photographs. Thanks!

Last updated: 2015-03-22 17:30:14